Uniquely Designed for Simplicity
Directly test your swab sample.
No mixing needed!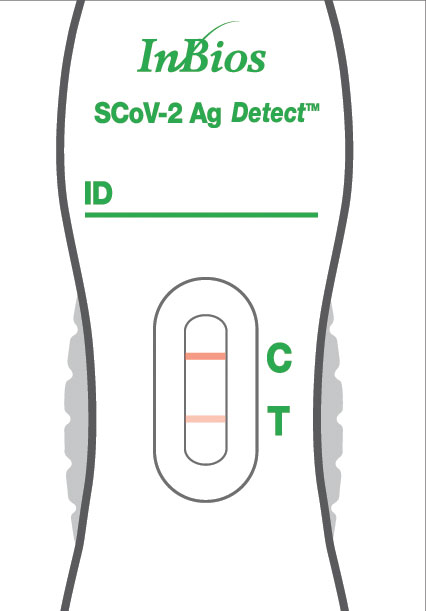 See Instructions for Use for a step-by-step guide to performing the test.
Fast, Easy, Test at Home
The SCoV-2 Ag Detect™ Rapid Self-Test's patent pending design has been developed to be incredibly simple to use. It uses a shallow nasal swab (inserted just one-half inch) and offers easy-to-read results – all in the time it takes to drink your morning latte, go for a mile run or read a couple of chapters in your latest novel.
Patent pending ease-of-use design

Uses minimally invasive shallow nasal swab

Simple positive or negative visual read – no instrument required

Can be used by individuals 14 years and older or with adult-collected nasal swabs from children as young as 2 years old

Can be used by individuals with or without symptoms. Test only once if you've have COVID-19 symptoms in the past 5 days. Test 2 times over 3 days if you have no symptoms.

PPA (sensitivity) 85.71%; NPA (specificity) 100%
InBios improves health outcomes by providing superior quality diagnostic products
that are accurate, easy to use and cost effective.
This product has not been FDA cleared or approved, but has been authorized by FDA under an EUA. This product has been authorized only for the detection of proteins from SARS-CoV-2, not for any other viruses or pathogens. The emergency use of this product is only authorized for the duration of the declaration that circumstances exist justifying the authorization of emergency use of in vitro diagnostics for detection and/or diagnosis of COVID-19 under Section 564(b)(1) of the Federal Food, Drug and Cosmetic Act, 21 U.S.C. § 360bbb-3(b)(1), unless the declaration is terminated or authorization is revoked sooner.
Visit the detail page for additional product info, downloads and more.